cocoa daisy has been knocking it out of the ballpark for me lately, and the june kit,
hello sunshine
, was no exception. i LOVE bright, happy, cheerful colors and this kit is FULL of them. my favorite parts of this kit? the jillibean soup woodgrain alphabet, it was a really good woodgrain. the jillibean soup wooden "hello" flags, i could have used one on every page! the ormulu flappers, fold-over bits that i ended using on two of my three layouts, such a cute little addition to a photo :)
i got the
wide brim
add on, unfortunately for you, fortunately for cocoa daisy, this add on sold out pretty fast, and i know why. the american craft tabs got used on two of my pages, had to resist using one on the last page i did. their chipbard frames were awesome too. the chap release wasn't my favorite, but i did end up loving both of these embellishment packs. i think my favorite thing from this add on though was the jillibean alphabet. there had been one in the may kit and i knew i'd have to have this other color. it's yellow! these are awesome alphas, i hope to keep seeing them in the kits, kind of a replacement from my favorite sassafras alphas...
finally, i ordered the happy
embellishment pack
. i'm so happy cocoa daisy started offering embellishment packs. i am more an embellishment user than a patterned paper user. funny how you change... i decided to get this add on for the basic grey yellow flowers and the brads, you can always find a place to add an extra brad or two. i ended up using the brads often, the flowers not yet, and the surprise winner in this add on? the BG little tags w/ the pins set. i loved how the safety pins are so flat and unobtrusive, and the little saying on the tags fit my kids so well! and for all you washi tape lovers out there, well, it's smash washi tape! i still haven't figured out how to use washi tape, so i'm not going to extol. :)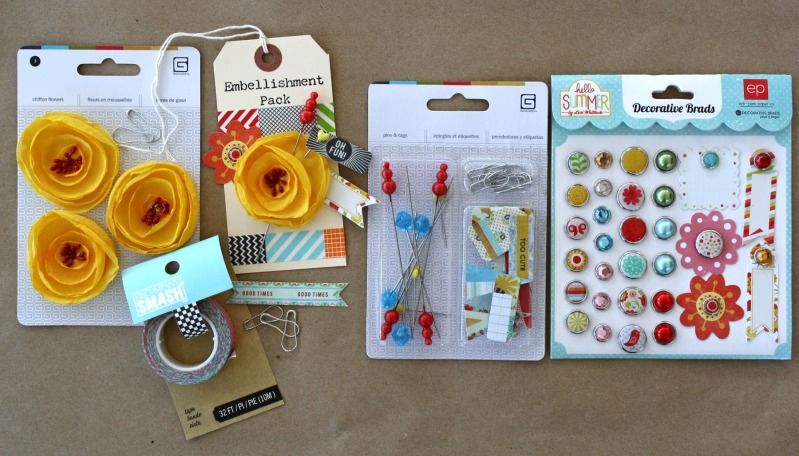 here are the layouts i made, i love every single one of them. this one because of the stamp and the BG tags. the stamp can be purchased separately or in the stamp subscription. i embossed it and think it just turned out cool with the wood background and yellow letters. this is about how much my son has grown musically, and i think it's funny our last name sounds so similar to the musical technique of playing pizzicato. the little simple stories bingo card? i am really digging putting words off my photo lately and to cut up a sheet of bingo cards makes it so easy!
it was time to scrap this memory. didn't have a picture of ethan saying "lellow" but did have a picture of him in a lellow shirt, almost as good. it's a pre-digital photo so i couldn't alter the underexposure issue, but i think that's ok. i got the memory recorded, that's what's important. i'm also loving an open frame look on my layouts lately. this was the perfect place to add my journaling.
and finally, lots of circles because a sock bun is very circular. annie is big into styling her own hair using things she discovers on pinterest. i embossed on the photo. it could have easily been a disaster, melting the photo and such, but i think it worked because of the stamp, thin lines means the heat gun doesn't have to be focused on the photo for a long period of time. if you'd like to see how i did this, head over to the
cocoa daisy blog
, i posted about it last week.
and that, my friends, is all she wrote.