Home again Finnegan. It was in a cartoon I saw in a Family Science college class. I have not a clue what it means. I just say it. :) But I do know what Home Again from Cocoa Daisy means!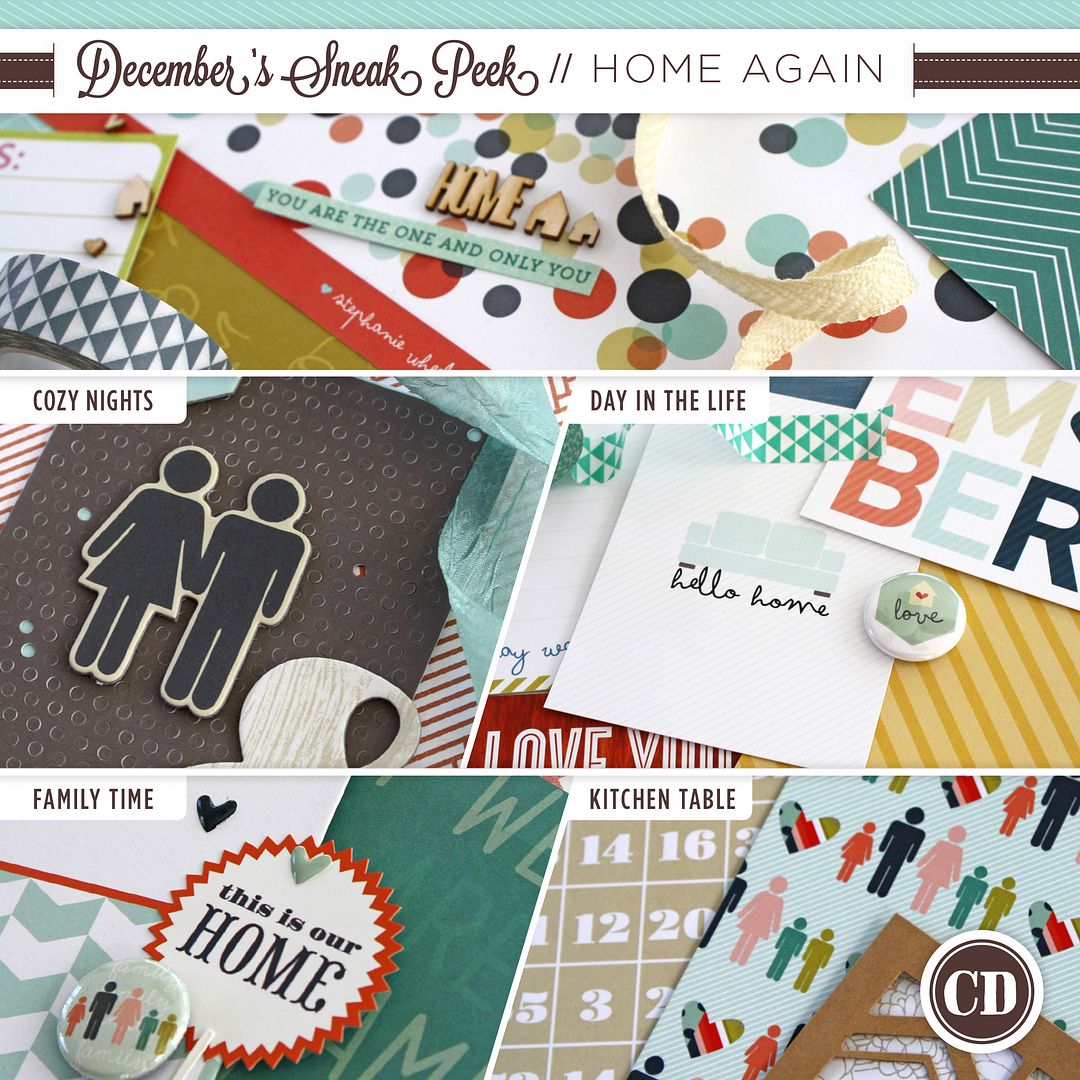 I wasn't sure about this month's
Cocoa Daisy
kit (are you sensing a theme?), but once I started cutting things up, I fell deeeeeeeep in love with
Home Again
. The kit will go on sale TUESDAY, the 26th of November. We moved Reveal up a few days so as to not conflict with the US Thanksgiving holiday. So be sure to join us on the message boards on Tuesday night.
It's the chartreuse paper that Stephanie designed, along with the Maya Road chipboard alphas, and the huge chevron paper from Lilybee (that totally freaked me out at first, but when I started cutting it up, I changed my mind). And how could you not love the little tiny wood bits? I haven't used the houses yet, but have an idea. Hopefully I can whip it up before I leave for our Thanksgiving break.
Anyway, you are going to LOVE Home Again. The colors are sooooo perfect together. Chartreuse may not be your favorite color, but pair it with red and turquoise and it takes on a whole new feel. I have a chartreuse coat I got last Christmas, I think it's the new IN color :)
I admit, I poo poo'd the potty people, it's a trend I was ready to say goodbye to. Then [b]this[/b] happened and it was PERFECT to have this cute flair from Evalicious to scrap with. I LOVE this layout.
And this is about my boy and how he's not little anymore. Or maybe about his hair. I haven't journaled on it yet and it could go either way... You'll have to wait and see I guess :) All next week, some of the DT will be posting to the blog what they did with their Maya Road chipboard alphabets. This is one of the techniques I'l share.
And my final one, about my new couch. How could I not with that flair?
I've been texting Christine the past two days admitting that I was so wrong, professing my love for this kit. It's seriously awesomeness in a box. And I didn't even get an add on this month, I knew I wouldn't have time to scrap, so the less options, the better for me. But wow, if you get all the add ons as well, you're going to be even happier than I am right now.
I don't know how that's possible really.
Yes, it's the kit, but also we get to see Annie soon! We are SOOOOOO excited. And happy. :)