1. My kids will be doing homework and piano practice. That's important. They started high school last week and are feeling pretty good about things. I like it when the year starts off like this!
2. My husband will be out visiting members of our ward (congregation). Again, important, but no picture for you, sorry.
3. I'll be just getting home from back to school night. Very important. But I don't have pictures of that either.
4. I'll be eating a heart healthy dinner. Uber important because my heart appointment went really well yesterday. I've lost 7 pounds since last visit (June of '11, not much but not shabby, I'll take it.), my cholesterol (I still get giddy that I can spell that now w/o looking it up!) has gone from 195 to 165 in the last year, my bad cholesterol (again, a little heart flutter there) is good and my good is good too. My blood sugar is low as are my triglycerides. Kidney function is normal. And my BNP, a marker for heart failure went down from last year's 30 to 18! Anything below 100 is considered excellent. That's how they'll start tracking me instead of an echo every year. I'm fine with that. Only thing that was a concern. My BP has dropped quite a bit, probably because of the weight loss and calisthenics (had to look that up) I've been doing in the morning. I have to take high blood pressure meds, not because I have high blood pressure, but because they make it easy on my heart. Mind you a bit easier than they should apparently now. So I have to watch that, and if it continues to drop (I was 90/60 yesterday), I'll have to lower my dosage of meds. Um. Yes please! And, I don't have a picture of my heart or any of those stats. So you'll just have to be happy at the thought.
and (You were waiting for me to stop.talking.about.my.heart, huh? Goodness I'm chatty today!)
5. Starting at 8 PM EST, we'll be
chatting
it up at Cocoa Daisy's Reveal of our September kit, He Said She Said. The kit, add ons, and gallery go live at 9 PM EST. The DT has loved this kit and I've been happy how quickly I've been able to design my layouts for the gallery. I never scrap fast. Unless it works for me.
Here's a look at the kit and add ons.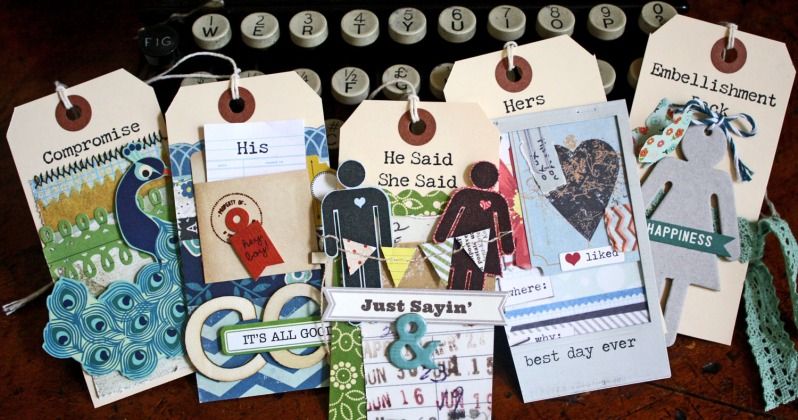 And here's a few of my own sneaks. I'm still working on one more layout. I'll post it to Instagram. I love Instagram. Even though the quality of the photos may be less than stellar, every single photo I run through their little filters makes me look like an artistic genius. It does. Really.
Uses He Said She Said, His, and Hers
Uses His exclusively, except the black cardstock
Speaking of working for me (see a few paragraphs back).
Today is my last day as the guest designer at
Jillibean Soup's blog
and I admit it, I'm sad it's over. I have loved every project I've made with the new releases. I think my favorite ended up being Soup Staples II because I'm a sucker for basics. But a close second was Grandma's Lima Bean Soup. And I once told Jill all she needed to do was give me every single color of the Alphabeans letter stickers and I'd be happy. Perfect size! I've always love JB, but more and more the papers and embellishments have started to fit my style. I'm so happy about that. Every project I made came together in less than an hour. See? If if works for me, I can be fast. So a thank you to Jill and her amazing team. You guys are awesome! Thanks for having me as your August guest designer. And thanks for being patient with me...
Here are all the projects I did this month:
week 1
week 2
week 3 (Why is it fuzzy? I have no idea. It's not fuzzy in Bridge...)
week 4
So there you have it, a reminder.
And a bunch of BLAH BLAH BLAH, boy, I'm a hot mess :) But a happy hot mess.