That post title was too good to use just once. :)
So to introduce my full gallery from
Cocoa Daisy
, I double dipped on the title. I'm sure you don't mind.
To say I loved the December kit would be an understatement. While at Studio Calico, I had my top favorite kit way back in 2008 I think, it was Garment District. There have been others at both kit clubs that I've loved, but that stayed in first place. Until now. And I'm hyping it up and it's all sold out, so I'll stop because that's not nice.
But you can still get the
Embellishment Pack
and the paper add ons, so not all is lost.
Here are my layouts and card that I made for December. I had so much fun. I even used washi tape, I know as a scrapbooker, this might sound like blasphemy, but I have not understood the draw until I got a roll of yellow stripe and yellow woodgrain in the past few Cocoa Daisy kits. Now I get it. Can you guess what my favorite color was this month? I've been using it in combination with green a lot lately. Funny how that happens...
This is a quote my daughter had pinned on Pinterest. It cracked me up and made a really fun title for a layout. I don't think it needs journaling, I have another page planned about her friendship with Hayley. I love that they are friends, they are the perfect foil to each other. :) My particular package of alphabet stickers had zero stick. I got the brilliant idea of using washi tape to position my title. Then I really liked how it looked so I kept it there. I probably should glue the letters down anyway, now that I think about it...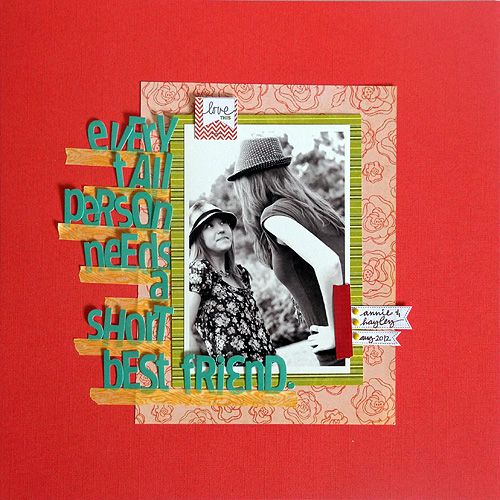 I dreamt this card into existence. Do you ever do that? My dream was a little different, but I love how this turned out. I used the exclusive KP stamps (OH MY GOODNESS. I love!) and my pumice distress ink with some chalk turquoise that I found in my cleaning and purging spree last month.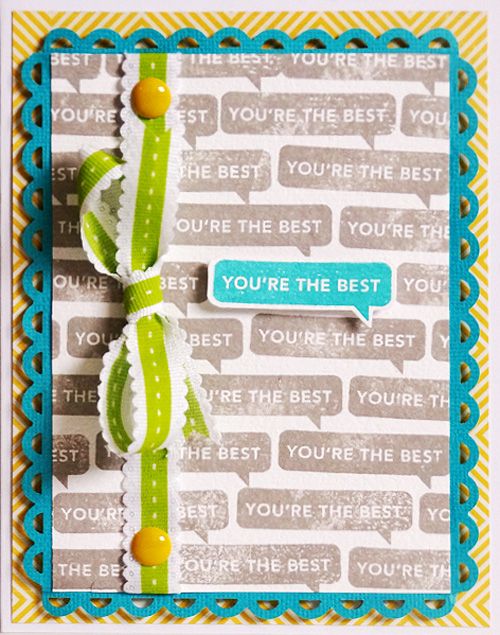 I did this one in conjunction with a really fun challenge we had over at Cocoa Daisy. Lisa Saunders my awesome co-DT coordinator and our awesome Community Director organized two teams and we all scraplifted the person above us. I was on the Green team and we were behind until the very end. Then we won! Turns out, the original layout was this one I'd done for last month's gallery.
I think it's funny how my version, which came at the end of the game, is so very different from my original layout that Lisa used as the inspiration. It had changed so much, I didn't even recognize it when it came my turn! She'd asked if she could use it as one of the lifts, I thought it was for the other team. Turns out, she lifted it and my team started with her lift! Love how that happens! I love this layout because it's my sweet nephews and sister in law. I'm really blessed to have them a part of our family.
And finally, I double dipped again for the Favorite Photo assignment for the
write.click.scrapbook.
December gallery. I love this photo of Kelly and me. I took it with my camera phone, on election day. We just look like we should be together. We look happy. I'm glad we look exactly like we are. PS This layout doesn't have my current favorite color on it, just in case you thought it was green, which I do love very much. And it makes a nice combination when used with that favorite color...
Any who. There you have them, my Cocoa Daisy December layouts! I've been ordering Christmas gifts while writing this blog post, I need to focus and finish. So until next time, my dear friends :)